Rafter F Scooters Sonny Dee
Auction HIP #40
OWNER INFO:
Matt and Pam Fournier - Rafter F Equine
(541) 280-5077
fourniertraining@gmail.com
Consignor Bio
MULE QUALITIES:
MULE DISPOSITION =
2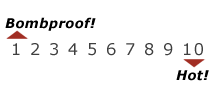 MULE DETAILS:
| | |
| --- | --- |
| Sex: | Horse Mule |
| Color: | true buckskin |
| Height: | 13 |
| Weight: | 600 |
| Age in Years: | 1 |
DESCRIPTION | Rafter F Scooters Sonny Dee
BUCKSKIN! America's favorite color, this fancy john mule yearling is also royally bred. His dam is a foundation quarterhorse mare and his sire is one of the most prolific grandsons of the great Texas Scooter. We got lucky when we were able to obtain this top quality colt with a group of weanlings we bought directly out of Charles Hoskins' breeding program. He is super sweet, good about blanketing, handling his feet and ears, clips, catches, leads, ties, loads and hauls great. This colt is super smart and non reactive. He is bold and stands his ground when introduced to new challenges. He will mature to 15 hands and has age appropriate training including wearing a small saddle and going through the extreme trail course in hand. Up to date on deworming, vaccinations, hoof and dental care.
BLEMISHES | Rafter F Scooters Sonny Dee
none