Scotty
Auction HIP #44
OWNER INFO:
Nate Cumin & Star Whitt
406-223-2388
Whitt17@hotmail.com
Consignor Bio
MULE QUALITIES:
Rope Heel - Prospect
Kid Horse - Finished
Ranch Horse - Started
Parade Horse - Prospect
Cutting - Prospect
Trail - Finished
Mounted Shooting - Started
MULE DISPOSITION =
2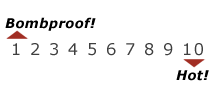 MULE DETAILS:
| | |
| --- | --- |
| Sex: | Horse Mule |
| Color: | Dun |
| Height: | 15 |
| Weight: | 1100 |
| Age in Years: | 8 |
DESCRIPTION | Scotty
Hey! This is Scotty! Take a look at this handsom rascal. Scotty is 8yrs old, 15hh, 1100lbs, and wears an 0 shoe on the front. Scotty has been with us for the last couple years on the ranch gathering/trailing cows along with other ranch activities. He's spent a couple of seasons in our backcountry wilderness outfitting camp in northwest Wyoming. Scotty has been subjected to many real life scenarios on the trail in the mountains, and on the ranch. He's been in the lead going up the trail a fair bit and doesn't balk. He pays attention and stays calm on trails and in tight spots. He's led the pack string and doesn't mind a rope under his tail. He's been used to wrangle the loose herd in the wilderness. He crosses water, logs, bogs, and bridges with confidence and is very sure footed. Scotty is a safe, easy going guy that goes willingly when and where you ask him and is not lazy. He stands quiet to saddle, bridle, and get on, and is quiet to be around in general. He neck reins and moves off leg pressure. He's also no stranger to a packsaddle. He's easy to catch and wants to be your friend. He's good with his ears, and to shoe, clip, and bath, and willingly loads into a trailer to go somewhere. He gets along well with other mules/horses. Good around dogs, livestock, traffic, and kids. No buck or bad habits. Scotty is a great mule with a lot of years in front of him. Thanks for looking. For more information please call 406-223-2388.
BLEMISHES | Scotty
None