Shotgun
Auction HIP #46
OWNER INFO:
McNabb Livestock LLC
307-250-0900
sales@mcnabblivestock.com
Consignor Bio
MULE QUALITIES:
Rope Heel - Started
Reining Horse - Started
Kid Horse - Started
Rope Calves - Started
Ranch Horse - Finished
Parade Horse - Started
Trail - Finished
Mounted Shooting - Started
MULE DISPOSITION =
2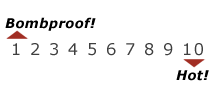 MULE DETAILS:
| | |
| --- | --- |
| Sex: | Horse Mule |
| Color: | Brown |
| Height: | 15.1 |
| Weight: | 1100 |
| Age in Years: | 6 |
DESCRIPTION | Shotgun
Shotgun is absolutely one of the prettiest mules I have every had and he is the whole package. He's an all-around handy ranch mule, sure footed and solid on the trail and a willing attitude for anything you ask of him. We have owned Shotgun for over a year and in that time we have used him all over the ranch to gather sort and brand cattle. We have used him at the stock yards to sort and ship. He's been ridden in town with Cowboys for Christmas delivering gifts. We have shown him in trail challenges. We took Shotgun to the NILE stock show last year and our 7 year old boy showed him in open halter and had a blast. We have done mounted shooting on him and he is good for any level of shooter. He will slow lope a pattern or run at any speed you ask him to. Shotgun has a great one handed neck rein. He lopes nice correct circles, soft and supple. He has beautiful flowing movement, very smooth to ride and he naturally carries his head level. Shotgun crosses all trail obstacles, logs, rocks, tarps, pushes the ball, water, rolling bridges, teeter totters. On the ranch Shotgun will track up on a cow, knows how to handle a rope and is an excellent partner. Shotgun is fun to ride out on the trail, he has a ground traveling walk and he will go anywhere he is pointed without hesitation. He is very surefooted in the most rough and rocky terrain. When you ride in a group, he is happy in the front or the back and he willingly rides off alone. Shotgun is great with other mules, horses, mares or geldings, dogs, cats, llamas, poultry and the potbelly pig. Shotgun is the first one to meet you at the gate and loves attention, he will follow you everywhere. He is good with his feet, ears, and clippers. He loves his bath and blow drying him with a leaf blower. Shotgun will load into any trailer and back out. Shotgun is current on all vaccinations, dental and worming. We welcome you to come out to the ranch and ride him anywhere. PPEs are welcome at your expense. For more information, call (307) 250-0900.
BLEMISHES | Shotgun