Snorkel
Auction HIP #07
OWNER INFO:
Dillon Corrington
651-303-7056
Rafterdmules@gmail.com
Consignor Bio
MULE QUALITIES:
Rope Heel - Started
Ranch Horse - Finished
Barrel Horse - Prospect
Trail - Finished
MULE DISPOSITION =
4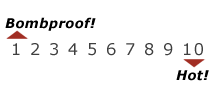 MULE DETAILS:
| | |
| --- | --- |
| Sex: | Horse Mule |
| Color: | Sorrel |
| Height: | 15.1 |
| Weight: | 1100 |
| Age in Years: | 11 |
DESCRIPTION | Snorkel
Here is one cool guy. Snorkel is the one you pick when you have a job that needs done. This mule has done more cowboy stuff than most people have seen on tv. He's seen lots of miles prowling pastures and gathering. He has drug calves to the fire. We have won money on him heading. We use him to snub broncs, pony colts and lead pack strings. He is built right with plenty of bone and foot. He holds a saddle well. We rope off him without a crupper or britchen.
Snorkel can be laid off for 6 months- just saddle and go. He is a handy, gritty mule that stays broke with time off.
If you're looking for an in-your-pocket-type, Snorkel is not for you. He is absolutely safe to be around and won't get you in a wreck. He is not, however, the cuddly kind. He is skeptical of new people on the ground but can be ridden by anyone without issue. If you are the kind of person that rides your mule more than you pet them, you will appreciate Snorkel's vast experience. He really is a go-to guy.
BLEMISHES | Snorkel