Spud
Auction HIP #16
OWNER INFO:
Alise Holst
507-951-7880
alise.holst@gmail.com
Consignor Bio
MULE QUALITIES:
Rope Heel - Started
Ranch Horse - Finished
Trail - Finished
MULE DISPOSITION =
2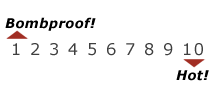 MULE DETAILS:
| | |
| --- | --- |
| Sex: | Horse Mule |
| Color: | Sorrel |
| Height: | 15.0 |
| Weight: | 1200 |
| Age in Years: | 9 |
DESCRIPTION | Spud
We are super excited to offer such an outstanding mule. Spud is a stout sorrel Quarter Horse mule that is very kind whether you want to ride out in the open country, in the arena or down the trail. He is sure footed and carries himself very well. Spud is super fun to ride in the arena! He lopes around in collected circles, has a nice jog trot, moves off of leg pressure, steers really well and stops off your seat. Spud is a smooth traveler outside as well. He is very confident down the trail where he is sure footed, does not spook and will cross any obstacle in his path. Spud is very easy going, but is also not afraid to go all day. He is so willing to please and always trying for the right answer. Spud is trained to lay down for mounting, opens and closes gates with ease and has a nice neck rein. He is also full of cow. He has been used to sort cattle, and we have also heeled on him. This is a super willing mule that is very trainable, versatile and takes everything in stride. Spud is ready for any task you throw at him and looks classy doing it.
BLEMISHES | Spud