TRAVIS
Auction HIP #47
OWNER INFO:
WILD BUNCH MULE CO
501-213-8594
wildbunchhorseandmuleco@gmail.com
Consignor Bio
MULE QUALITIES:
Rope Heel - Started
Reining Horse - Finished
Kid Horse - Started
Rope Calves - Started
Ranch Horse - Started
Barrel Horse - Finished
Parade Horse - Finished
Cutting - Started
Trail - Finished
Mounted Shooting - Prospect
MULE DISPOSITION =
2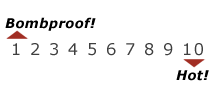 MULE DETAILS:
| | |
| --- | --- |
| Sex: | Horse Mule |
| Color: | Bay |
| Height: | 14.0 |
| Weight: | 1029 |
| Age in Years: | 8 |
DESCRIPTION | TRAVIS
TRAVIS is a handsome little quarter horse type john mule. He is out of a black jack and a sorrel Quarter Horse mare. He is the perfect package for a trail mule. He loves to go. You don't have to kick him hardly at all. He moves with just a squeeze and a cluck. He travels through all types of terrain with no problems at all. He is very smooth in the saddle in all his gaits. He has a nice neck rein. He has a good stop and backs well, too. He has been hauled to several different states for hunting, mule competitions, trail rides and more. He has a sweet personality that your family will love. He is smart and picks up new things well. He has had his teeth floated. He will be current on his Coggins test, vaccinations, worming and will be freshly shod for the sale. Look for us to show him in some events besides the mandatory trail course. We hope that anyone interested will give us a call and feel free to ask any questions about TRAVIS and even come ride him here at our place in Texas prior to the sale in Wyoming. You can buy with confidence from our family. We want to help you buy your first mule or your next mule. For more info, pictures or videos, call Jennifer at 501-213-8594.
BLEMISHES | TRAVIS