Tess
Auction HIP #44
OWNER INFO:
Bryan Mahoney
406-839-4224
mahoneymuleco@aol.com
Consignor Bio
MULE QUALITIES:
Kid Horse - Started
Ranch Horse - Started
Parade Horse - Finished
Trail - Finished
MULE DISPOSITION =
2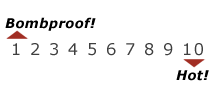 MULE DETAILS:
| | |
| --- | --- |
| Sex: | Mare Mule |
| Color: | Sorrel |
| Height: | 14.1 |
| Weight: | 1150 |
| Age in Years: | 8 |
DESCRIPTION | Tess
Meet Tess...you can't help but fall in love with this adorable girl. She has a big personality, goes through the trail like a mountain goat and is stout enough to carry any size rider.
Tess is really easy to handle on the ground. She loves being brushed, washed and is good to clip. Stands well for saddling, bridling and mounting and will move right over to a mounting block if needed. She hops right in the trailer and hauls great.
Tess can handle the toughest trail you can find. Up steep hills, through creeks, over bridges, downed trees - none of it bothers her. She is the ultimate point and go mule. She leads a group happily but has no problem being at the back or anywhere in between. She is well trained. Her neck rein and leg cues are excellent . She backs and sidepasses effortlessly, and stops and stands patiently. She moves out nicely when you squeeze her but is happy to go as slow as you want.
Tess is smooth and collected at both the trot and canter. She easily trots or lopes nice pretty circles in the arena or out in the field. She has a good handle and is very confident and controllable no matter what you're doing.
Tess is good with tarps, bouncy balls, flags, balloons, umbrellas and so much more.
Dogs and wildlife don't bother her, nor does machinery, 4 wheelers or traffic.
Tess is a real confidence builder, a great trail partner and the type of mule you can count on every time you take her down the trail.
Tess is a willing partner for the whole family to enjoy for years of happy trails.
BLEMISHES | Tess