Tori
Auction HIP #46
OWNER INFO:
Jarred & Max Nichols
602-919-4081
nicholssaddlemules@gmail.com
Consignor Bio
MULE QUALITIES:
Kid Horse - Finished
Ranch Horse - Finished
Trail - Finished
MULE DISPOSITION =
2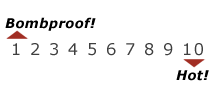 MULE DETAILS:
| | |
| --- | --- |
| Sex: | Horse Mule |
| Color: | Bay |
| Height: | 14.3 |
| Weight: | 1000 |
| Age in Years: | 8 |
DESCRIPTION | Tori
Tori is a beautiful 8 year old Molly that stands 14.3 hands. She is good with her feet and ears. We have used her in our outfitting business as our lead mule, also put our hunters on. We have used her to lead pack mules and have packed on her. She goes anywhere and does anything we ask of her without any problems. She has great endurance and has been rode all over Arizona on trails and off. We have also used her to gather cattle in extremely rough terrain and she makes it look easy. Tori is the kind of mule you can get along with and go just about anywhere on. For more information please call 602-919-4081.
BLEMISHES | Tori