Trooper
Auction HIP #40
OWNER INFO:
Chris Knudson
307-680-4875
cknudson@wyodakenergy.com
Consignor Bio
MULE QUALITIES:
Rope Heel - Started
Reining Horse - Started
Kid Horse - Started
Rope Calves - Started
Ranch Horse - Started
Barrel Horse - Prospect
Parade Horse - Started
Cutting - Prospect
Trail - Finished
Mounted Shooting - Started
MULE DISPOSITION =
2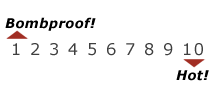 MULE DETAILS:
| | |
| --- | --- |
| Sex: | Horse Mule |
| Color: | black paint |
| Height: | 15 |
| Weight: | 975 |
| Age in Years: | 9 |
DESCRIPTION | Trooper
Trooper is a very cool mule! In your pocket and as loyal as any good dog. Travels out very well and sits a saddle good. Troop is maybe the most willing mule I have worked with. He will go anywhere you ask. He is the one you want if you are into asking your mule to crawl up on rocks or jump off banks. He simply does what you ask. He has hunted lions and went to the tree in some really nasty country. Can catch him in the pasture and ride off. Very eager and willing to please. Trooper has been on Search and Rescue missions, late season elk hunts and lion hunts. He has moved cows and drug calves go the fire. He is good to clip, shoe, load and get on. He is enjoyable to be around and always has his ears up eager to see what is next. This one will become a member of the family if you let him.
BLEMISHES | Trooper