America's Finest Select Saddle Mules/Horses - take pictures with your animal saddled & bridled....

A PICTURE IS WORTH A THOUSAND WORDS!!
The photos you take will give prospective buyers their first impression of your mule/horse. If the photo is not appealing, your mule/horse may be overlooked no matter how good he/she is. Please take a moment and read these tips about photographing your mule/horse.
PHOTO'S Usage- These photo's may be used in postcards, posters, front cover of catalog and any advertising that we do. Ads placed in magazines will use only the best color & clearest photo's.
CAMERA- Any camera will do, but if it has a zoom lens, excellent. If you are taking still photographs 200 ISO setting is fine. For action shots use a higher setting of 400. Take an excess of photos (20) and you may have 1 or 2 good photo's. Take 30-50 and take a least 5 or 6 photos of the same pose. If you have a zoom lens, use it. Stand back at least 20 feet from your mule/horse and zoom in.  This will help in getting rid of the big head look. Digital cameras are great as you can view the photo right after you have taken it, but the shutter speeds on digital cameras are extremely slow and it is easy to miss your mule/horses ears being up. Digital photo's need a camera setting of fine for highest resolution.
LIGHTING- Choose a sunny day and don't use a flash. Only early morning or late afternoon light is the very best.
Midday photos are terrible, too much white light and too many incorrect shadows. Always make sure the sun is shining directly on the animal as you take the picture, shadow is behind the animal. The qualities of the animal will show up best if the light hits on the front
side of the animal. Make sure not to get the photographers shadow onto the mule/horse.
BACKGROUND –Take a moment before you shoot your photos to look at the background. Are there
junk cars in the background? Manure piles, telephone wires, other mule/horses, trees? If so, move. The BEST
photos have the least clutter in the background. Don't have a fence post extending up behind your mule/
horse. Have the animals head in the sky where it is clear and shows off best.  Stand at least 20 feet away when taking a photo, zoom in to the animal.
POSITIONING
Shoot from mid belly– The best photos are taken when you are on your knees focused toward the center of your
mule/horse. If you shoot from too high up, your mule/horses look like they have no legs. Take pictures
from several angles. Try to compliment your mule/horse's strong points.
Sky in Background– Having the sky in the background keeps the picture clear and clean and will show off the mule/horses head and other
features the very best.  DON'T get too much sky...as it will wash out your animal and take away it's color, highlights, & shadows.
Shoot profile pictures– When you are shooting a Profile of your mule/horse have your handler position his feet correctly. Near
hind leg back, near front forward, head and neck turned 45 degrees. Make sure to center your mule/horse
in the frame.
Three Quarter Front shot– the mule/horse should stand square with his head and neck
straight. Make sure his ears are up! Do not tie your mule/horse to a tree, a fence or a trailer. Get someone
to help hold the mule/horse that is capable of positioning the mule/horse correctly and getting his attention
to put his ears up.
RESIZING & UPLOADING  
Size-Make sure your photo's are no larger than 5 MB.  If they are less than 1 MB they can not be used in a larger size by us.  If you need to reduce your photo size, there are free programs that allow you to do this.
To upload your photo's, they must have a jpg or jpeg as the file extension.  (NOT bmp, tiff, or png)
For ease of tracking photos, as we get hundreds, please REname the photos:  "your last name"-"mule/horse's name" then photo "#", (ie Clark-Lynx1.jpg, Clark-Lynx2.jpg, Clark Lynx3.jpg).  I can easily and quickly walk you through the renaming, just call me, (Kay 307.272.8792)  Also, right click on the photo/file name, at the bottom of the list that appears (2nd name from the bottom) should be "Rename", click on this and enter the name as shown above.  (Thanks)
PICTURE & AT THE SALE – Make sure your mule/horse is presented in a professional manner and looks his
best.
Tack should be cleaned and polished and every effort should be made to have properly fitting tack.
Please provide at least 1 or 2 pictures with no rider as we are promoting a saddle animal and are able to enlarge the photo
and show off the animal better without a rider, profile photo's.
REMEMBER- TAKE LOTS OF PICTURES TO GET THE PERFECT ONE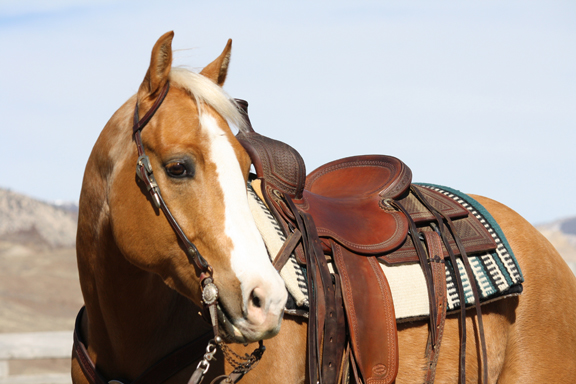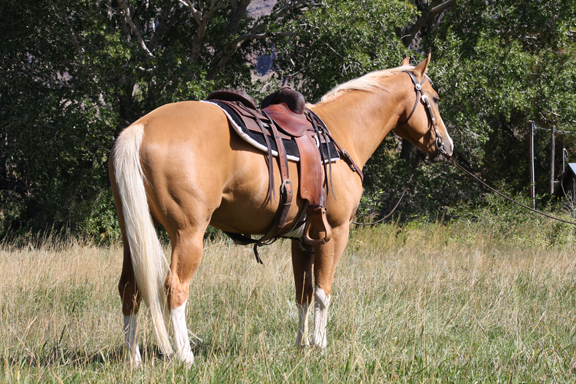 Great Photo: This photo shows the best qualities of the horse, without much clutter in the
background.  See how the hair shines from the sun and it shows his muscle with shadowing?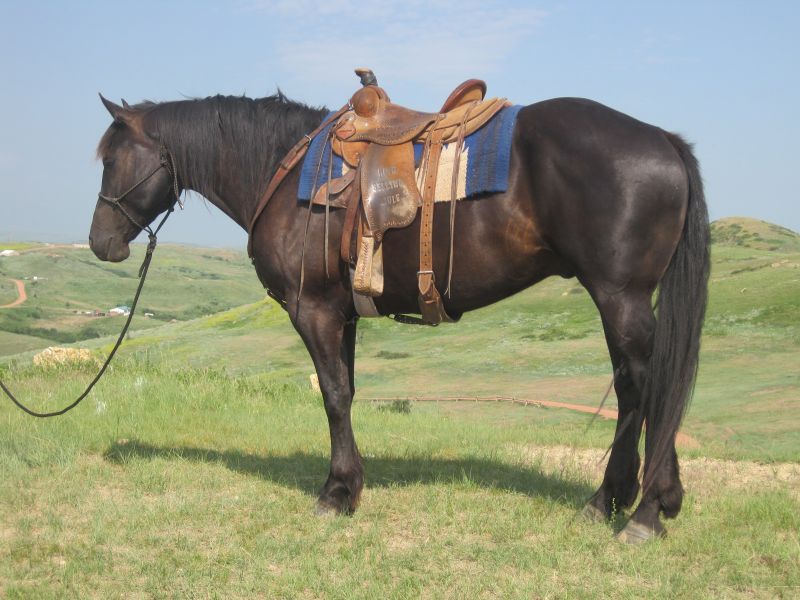 Great Photo: This photo shows off the horses' head well
in the sky as well as all other confirmation. 
Standing just a little bit sideways, shows off the hip a little
more, makes the head a litte smaller.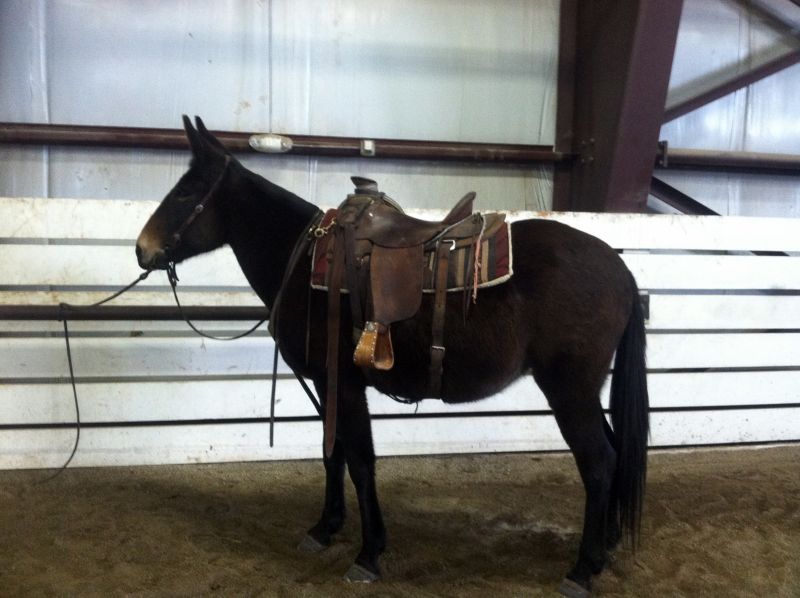 This mule is in the shade and the background is also distracting from the mule.
This photo does not show off the animals best qualities.
---